Cooperation
I would love to hear your proposals of cooperation. Every post I publish is in English and Spanish reaching a bigger audience. If you are interested you can send me an email directly to contact@chido-fajny.com and I will be back to you as soon as possible; or if you prefer you can send me a private message in the Facebook Fan Page.
Some Stats About My Blog
More than 1 million unique users have visited my blog
Unique users in 2016: 149,715
Unique users in 2017: 165,483
Unique users in 2018: 174,585
Unique users in 2019: 260,388
The United States, Poland, UK, Spain, and Mexico are the countries with the most visitors on the blog in 2019.
Likes in Facebook (Decmber 2019): 13,381
Total number of posts (December 2019): 308
Number of posts in blog in Spanish (December 2019): 145
Number of posts in blog in English (December 2019): 143
Number of posts in blog in Polish (December 2019): 20
Awards
5th place on the Top 20 Poland blogs by Feedspot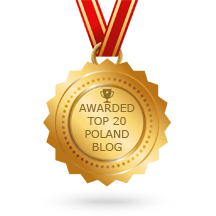 Featured in Top 5 Expat Blogs by Expat Focus
Past Collaborations
Coca-Cola – video in serie Smaki bez granic
Pepe Housing – promotion of services
Guest Blogger in Poland Unraveled
GmoodsBall – sponsored article
Alebriche Restaurant Krakow – product test
Continent Chasers – article cooperation
AB Poland Travel – giveaway and contest
Warsaw University of Technology – lecture
Dos Tacos Restaurant – presentation about Mexican culture
Publicity for Warsaw Public Transportation with the Official Tourism Page of Warsaw
Interview in Dzien Dobry TVN
Member of Polish Travel Blogs
Contact
I love to hear recommendations from you, if you have an idea of a future post, some changes in the website, or the content of the site; or if you just want to stay in touch with me… just let me know! I will read ALL the messages from you.